Welcome to Paint-a-Pot! We are a vibrant pottery painting studio in Braunton that provide an enjoyable artistic experience for all the family. Whether you are looking for something to do on a rainy day or family fun, visit Paint-a-Pot. We will captivate your imagination with our dazzling studios, and you'll end up with a piece that you will treasure for years to come. If you are looking to have a pot painting party, we have the ingredients to create life-long memories. Visit our contact page to arrange your visit today. We take delight in hosting unforgettable, art-filled sessions.
Please note, you are welcome to collect your creations at the following times.
Tuesday – Sunday: 11:30am – 4pm 
(11th September '23 - 28th March '24)
Monday: Closed
Tuesday to Saturday: 11:00am
Sunday: 11:30am
Last painting time: 3:30pm
Bookings outside these hours can be made. Please email or phone the shop to make arrangements.
Christmas and New Year: Monday 18th December to Friday 22nd – Open. Saturday 23rd open until 1.30pm for collection.
Closed 24th, 25th and 26th of December and Monday 1st Jan. Open Tuesday 2nd of January.
We will then be open on Saturdays only until February half term.
You can still enjoy pottery painting at home.
Collect and paint your choice of items and then just return them for firing and glazing. 
Fun things to do in North Devon
Looking for fun things to do in North Devon? Whether you are looking to liven up your weekend or brighten a rainy day, our studios will give you the creative and social experience you have been looking for. Since being established in 2005, we have been entertaining babies through to grandparents, with our inventive pot-painting sessions. As soon as you walk through our doors, you'll become absorbed in our lively world of colour and creation.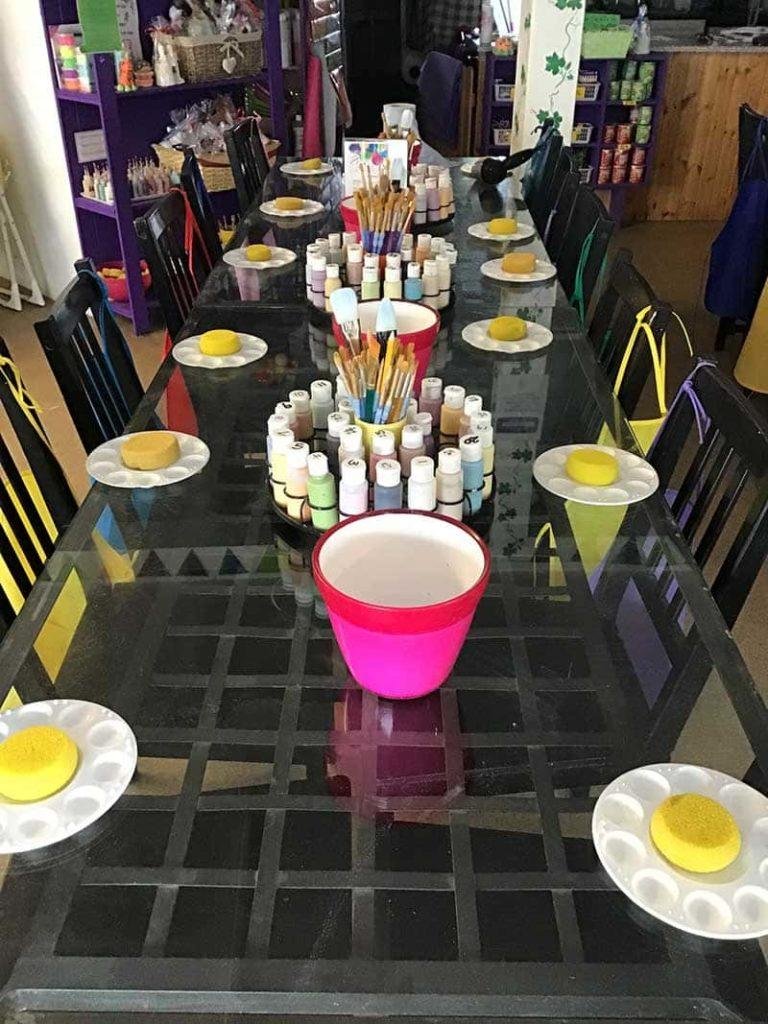 Here at Paint-a-Pot we host a range of pottery painting parties, from hen parties to children's parties. Whether you want a relaxed afternoon with your best friends, before your big day, or an original children's birthday party, we have the activities for you. If you are in Braunton, or elsewhere in North Devon, including Barnstaple, Croyde, Ilfracombe, Bideford and Woolacombe, visit Paint-a-Pot, and get your creative energy flowing.